Big J's Cajun Graphics and Banners





The Banners and Graphics on this page were created
by me using Paintshop Pro 9 and Bannermaker 3.0
Please feel free to use them if you wish, the only thing
I ask is to give ole' Big J a little credit. You can
use the small button or text link:




http://bigjla5.tripod.com/0la.html
or
Big J's MHIL Graphics

If you want a graphic or if you want me to add your site name
or anything use the form below.

If I find a site using direct links, you will be asked
to stop and re-link the URL: That is bandwidth
stealing.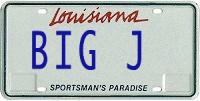 License Plates not included
Banners and Graphics open in New Window
Louisiana Graphics and Banners
Louisiana Banners
Louisiana Graphics
Patriotic Banners and Graphics
Patriotic Banners
Patriotic Graphics
Big J's Graphics from Paintshop Pro 9
Eagles and Such Page 1
Eagles and Such Page 2
Eagles and Such Page 3
Misc. Banners and Graphics
Misc. Banners
TWF: Fort Wilderness Banners and Graphics
TWF: Fort Wilderness Banners
Use the Form below to request personalized graphics or banners.